This is one of our new sections, Matings.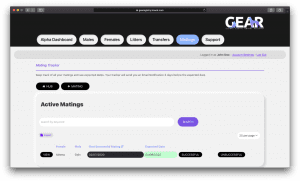 Adding a New Mating
Here you will see all the current matings you have done. When you want to add a new mating, all you need to do is click on 'Add Mating'. You will then be greeted by this form.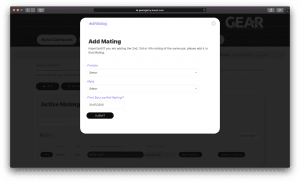 All you need to do is choose the Female and Male from the dropdown list and choose the date of the mating. Females will only show on the list if you have marked their status as 'On Heat'.
Once you've added the parents and date you can click 'Submit'.
After submission you will see the mating has been added to 'Active Matings'.
From the active matings card you can mark the matings as 'Successful' or 'Unsuccessful'. Marking the mating as 'Unsuccessful' will remove it from active matings. Selecting 'Successful' will put the mating directly into the expected litters card in the litters section. It will also give you an expected date of birth, based on the first mating date.
If you want to add any additional matings to a pair, you can click on 'View' and it will bring you to a new page.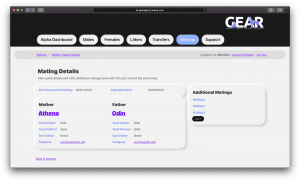 On this page you will see the breeding pair's information and the dates that they have been mated.
Adding Additional matings
You can add up to 3 additional matings by clicking on 'Edit' in the additional matings card.
And that's all you need to do in order to add a mating, easy as pie.
Speaking of Pie…