About Woodrock
When we first started GEARelief, we were looking to make a difference in the lives of all animals. And I think that's what really brought our attention to Woodrock Animal Rescue. Woodrock is one of the oldest animal shelters in South Africa. They are pro-life and pride themselves on their education & sterilisation ideology. They often go into townships and rescue neglected or abused animals. In the townships, they would also visit schools and try and teach the children about animal care and let them play with a dog. Many of the children from the schools are afraid of dogs, and Woodrock is trying to break that fear. To show them that dogs are loving and friendly. Sterilisation is something they also take very seriously. They often sterilise the dogs they rescue or that get surrendered to them. This helps reduce the amount offspring that could be left abandoned and help stop the cycle from repeating itself.
If you would like to help out with volunteer work or donations, Woodrock is always open and ready. Feel free to contact them to arrange a day to help out, they will welcome you with open arms. They do have an on-site tuck shop as well, so any purchases there will go towards helping the shelter.
The Day
On the day, June 2nd, we arrived and were greeted by the owner Stella. She explained their philosophy to use and had us taken on a tour of the premises. There are over 350 dogs and cats in their care, at any given time. Regardless of how many animals there are, all of them look well taken care of, and they all receive love and affection, while they wait for their forever homes.
After the tour and introductions, we started walking some of the doggies. It's safe to say that the dogs were excited to go for a walk. They didn't stop pulling on the leashes and smelling every little thing they could. Their little tails were like helicopters.
Woodrock is based on an 8.5-hectare plot, with a short and long walking trail for the dogs. There are some amazing views for you and the dogs.


Then we had the privilege of playing with 3 beautiful puppies. They didn't seem to run out of energy, constantly jumping into our laps and playing with one another.

After being pulled around by the big dogs and puppies, we decided to go say hello to the cats. Woodrock has an amazing cattery for all their little kittens and cats. These were some of the most friendly and playful cats you'll see. Not like your typical house cat that does what they want, when they want. These cats crave affection and will follow, and try to play with you everywhere you step.

The Donation
Thanks to all the wonderful members of GEAR, we were able to donate a whole lot of supplies to Woodrock. Without your support, this wouldn't have been possible.
The items that we donated are:
x78 tins of Puppy/Kitten food
x2 Puppy/Kitten milk
x3 Nutristem
Protexin
x20 Blankets
x2 10kg Cat litter
x2 5kg Rabbit feed
x2 10kg Chicken feed
x8 Grooming Gloves
x6 Tennis Balls
x6 Mops
x2 5kg Washing Powder
4kg HTH
x2 HTH Shock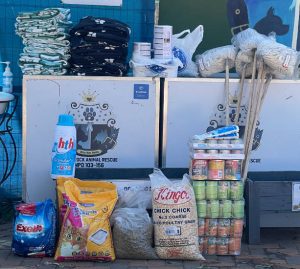 We plan to grow our Relief program and give back as much as we can. We will be doing more donations and volunteer work soon.
Once again, thank you all for your support.
For more information about Woodrock, visit their website https://woodrockanimalrescue.co.za